This function sends an alert or notification to your designated phone number(s) and/or email(s) whenever the indicated reservation event is triggered for reservations with specific flags.
A useful example for the use of this function would be for restaurant managers to receive a SMS alert whenever a new VIP reservation has arrived at the restaurant.
Please note that additional charges apply for the use of SMS.
This article covers the following topics:
Setting Up
1. Select on the Alert Rules setting located on the left panel.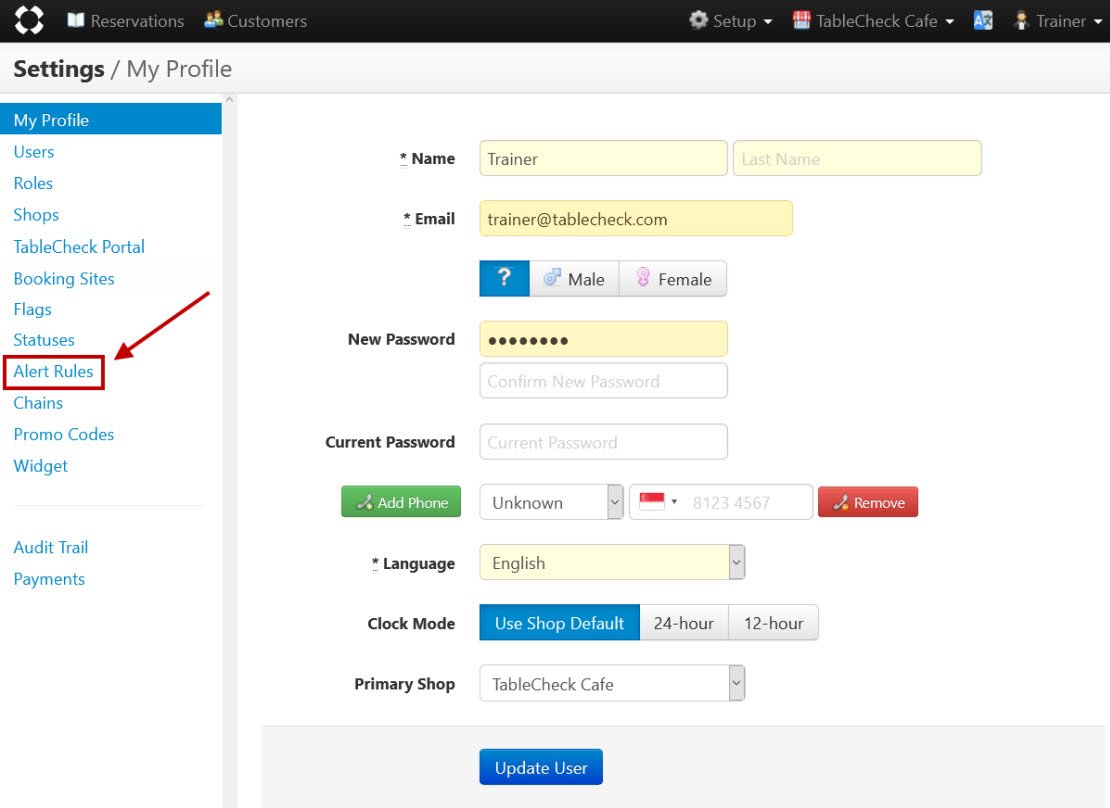 If you are currently on a different settings page, kindly first proceed to the settings page by clicking the Setup wheel icon (located on the top right hand corner), → Settings to get to this page.
---
2. Click on the New Alert Rule button to get started.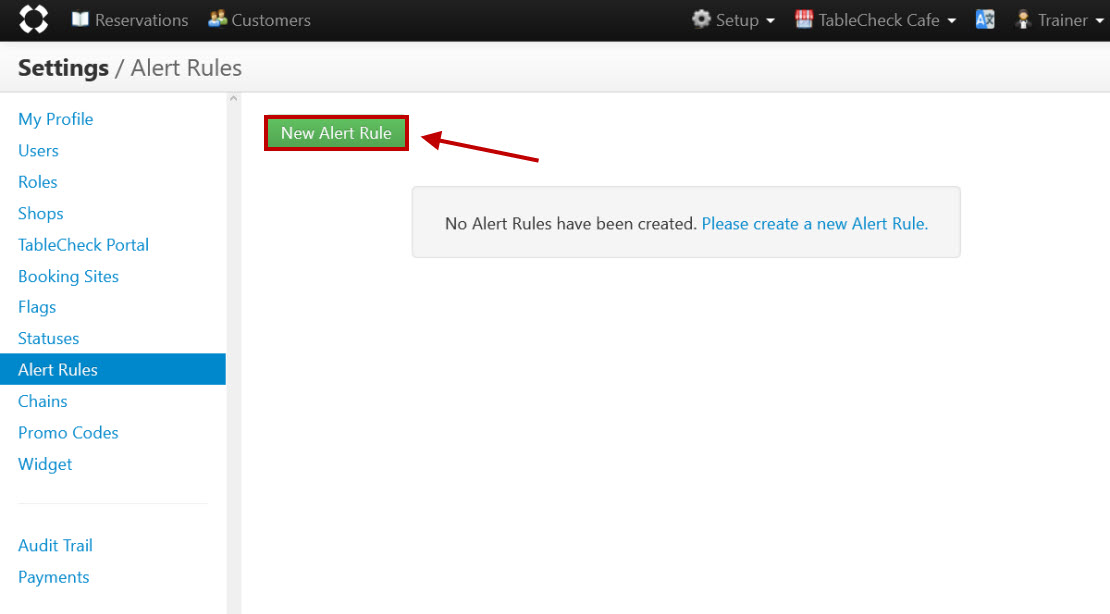 ---
3. Set up your rule with the fields below.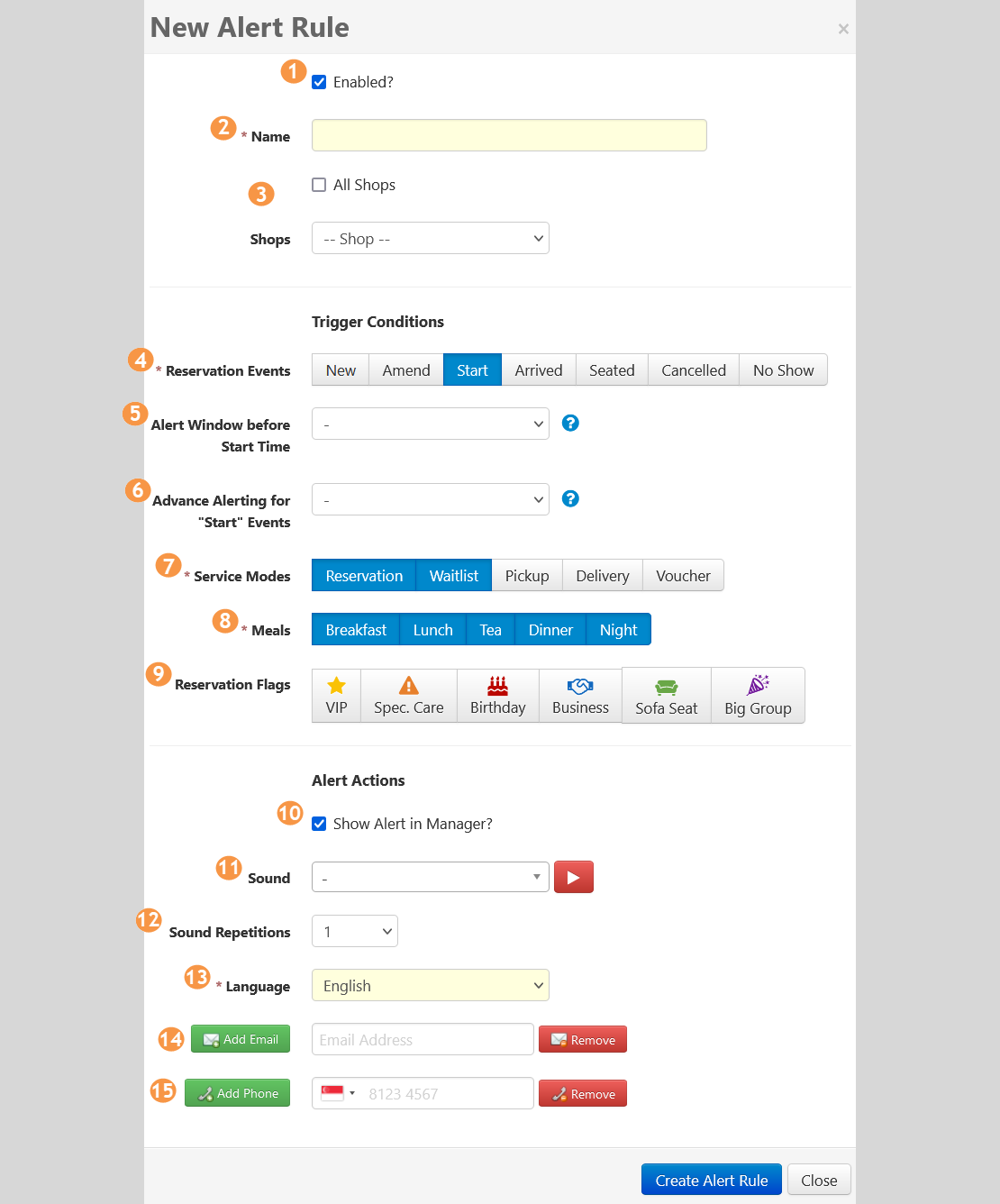 ① Enabled
If the box is checked

☑, the alert rule will be enabled.

② Name
Give your alert rule a name to easily distinguish it.
③ Shops
If this rule is to be applied to all shops, simply indicate All Shops as ☑.
If this rule is to be applied to specific shops only, indicate them in this field.
④ Reservation Events
Indicate the event / situation in which you would like to be notified for.
⑤ Alert Window before Start Time
You can select the time frame prior to affected reservation at which you would like to receive the alert for. Please note that this time selected will be applicable to all events except Start.


Example:

If Alert Window before Start Time is set to 3 hours for Cancelled events, you will receive an alert if cancellation to reservation is made 3 hours or less prior to reservation start time.

⑥ Advance Alerting for "Start" Events
You can select the advance time duration at which you would like to receive the alert for "Start" events.


Example:

If Advance Alerting for "Start" Events is set to 15 minutes, you will receive a SMS or email notification 15 minutes before the reservation start time.

⑦ Service Modes
Select all the service modes you wish to be alerted for.
⑧ Meals
Select all the meal periods you wish to be alerted for.
⑨ Reservation Flags
Select the required flags based on your requirements, you will receive alerts for reservations that have been assigned one of the selected flags.
⑩ Show Alert in Manager

Enabling this would enable the alert (bell) icon on TC Manager screen.

Clicking on the above bell icon with a notification alert will bring you to the corresponding reservation the alert is for.

⑪ Sound
You can select your desired alert sound from the drop down list of sounds to accompany (bell) alerts on TC Manager.
⑫ Sound Repetitions
You can also select the number of times the alert sound should be played for each alert.
⑬ Language
You can select the language in which the SMS / email notifications should be sent.
⑭ Add Email
All the Email IDs entered here will receive email notifications
⑮ Add Phone
All the phone numbers added here will receive SMS notifications. (Provided SMS is enabled for the venue)


---
SMS/ Email Notifications
SMS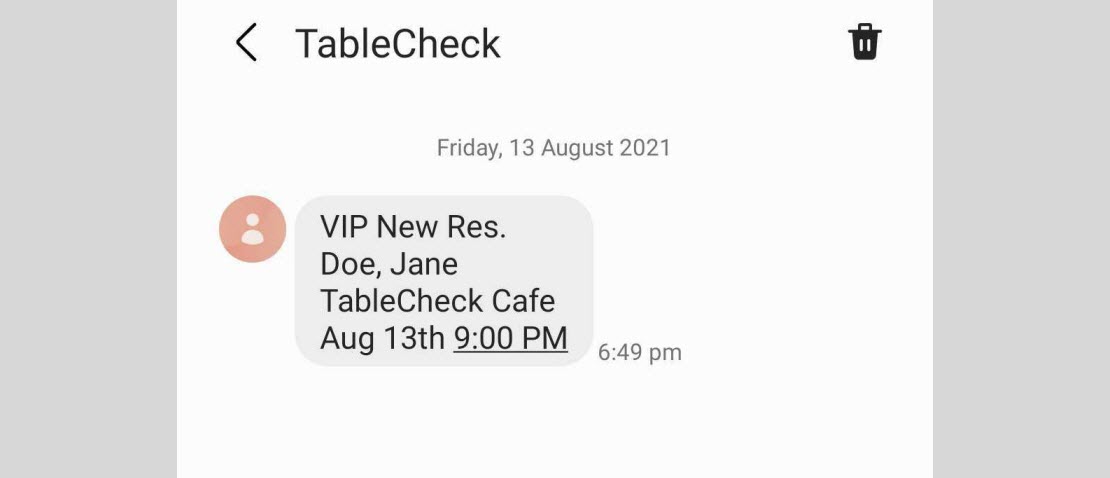 Email