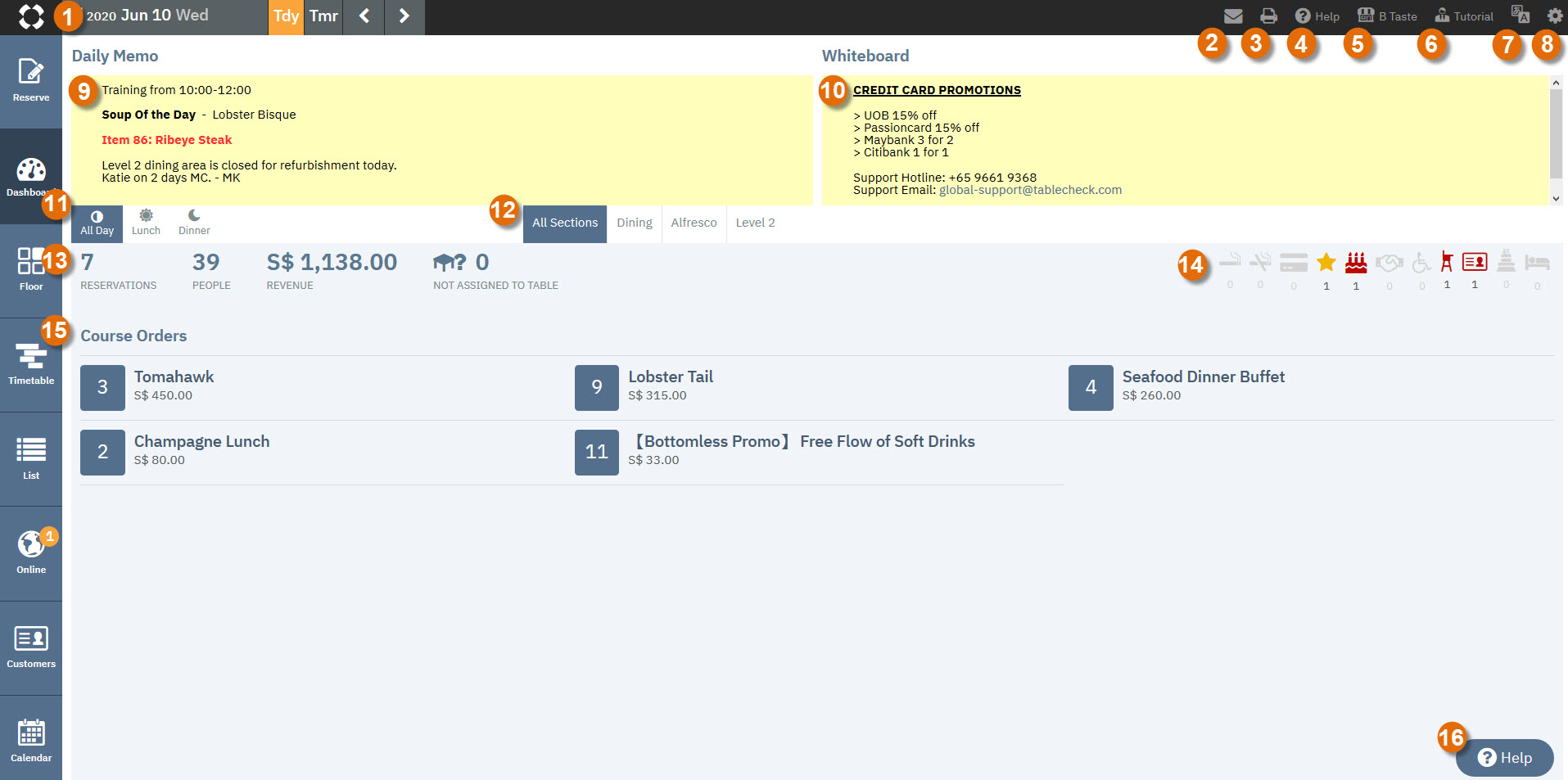 ① Calendar
You may jump to other dates by using the calendar tool here.
② App Notification

Check out news of any new features, important notices and more here.
You will see an alert icon here when there are unread notifications.

You can always come back to this icon to reread the notification until it gets replaced by a new notice or when the display period has expired.

③ Report Generator

You can export daily and monthly reports here.

④ Requiring Help

Select Help Center option to jump to our Zendesk help page.

Select Get Support option to bring up the support window seen in ⑯ to reach our support team.

⑤ Shop Selector

The shop name displayed here reflects the shop you are currently logged into.
You may click this to toggle between shops within your franchise.

This is only possible if:
※ More than 1 shop has been contracted to use our system.
※ Your user access allows for multi-shop access.

⑥ User Name

The name of the user who is currently logged in will be displayed here.

You may also click here to log out.

⑦ Language Selector
You may click here to switch between the languages we support.
⑧ Setup Wheel

The setup wheel houses several other functions within the system.
You may learn more about them here.

⑨ Daily Memo
Displays the daily memo of the selected date.
⑩ Whiteboard
The content entered in the Whiteboard will be displayed every day.
⑪ Meal Period
You may toggle between the meal periods to view its respective reservation data on the dashboard.
⑫ Section

You may toggle between the different table sections to view its respective reservation data on the dashboard.

This is only seen if your floor plan has multiple sections created.

⑬ Reservation Overview
Here you may find the total number of reservations, total number of diners, total revenue from preordered menus and number of reservations yet to be assigned to a table for the day.
⑭ Flags
The numbers indicated at the bottom of each flag represents the number of reservations it been tagged to for the day.
⑮ Course Orders
A breakdown of preordered menus for the day.

⑯ Get Support

Click on this bubble to quickly navigate through our self-help articles.

Can't find what you are looking for? Feel free to reach our support team by clicking on the Contact Us button located below.