You can now choose to display or hide some of the items in the reservation confirmation emails sent to the diners.


Please note that you need to have access to change Franchise settings in order to be able to configure this setting.
You can also customize the design and branding of the emails to match your own brand theme. Please refer to the below article for more details.
On Settings System, go to Mailer Templates and then click New Mailer Config.



---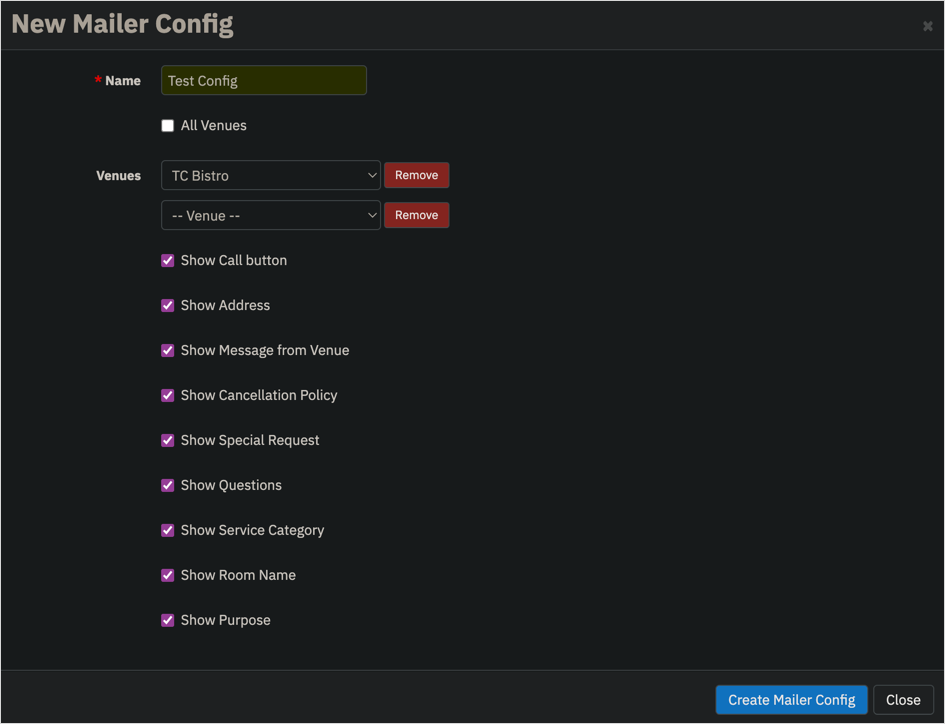 Name
Name of the Mailer Config
All Venues
If checked, this config will be applied to all venues
Venue
This will only appear if All Venues is not checked.
You can select the venue for which you want to apply the config.
If multiple configs are set for a venue, the one with the higher order in the list will take priority.
Show Call button
The call button will be displayed and will be linked to the phone number configured in Venue Settings.
Show Address
The address of the venue will be displayed along with the Google map location.
Show Message from Venue
Checking this will display the Message from Venue as set in the Venue Settings. The header for this in the email is What to Know Before You Go
Show Cancellation Policy
Checking this will display the Cancellation Policy if configured in Venue Settings.
Show Special Requests
Checking this will display the comments entered by the guest under Requests section.
Show Questions
Checking this will display answers by the guests to the questions while making the booking.
Show Service Category
Displays the selected service category
*Shows only when the service category is configured.
Show Room Name
Displays the room number entered by the guest while making the booking.
Show Purpose
Displays the purpose if entered by the guest.
Email Sample